All our future scheduled webinars and live streams are listed on this page.
You can also find details of future presentations on our Facebook and Twitter pages.
Join us for our next Social Media Live Stream: 'An Algorithm for Healthy Skin'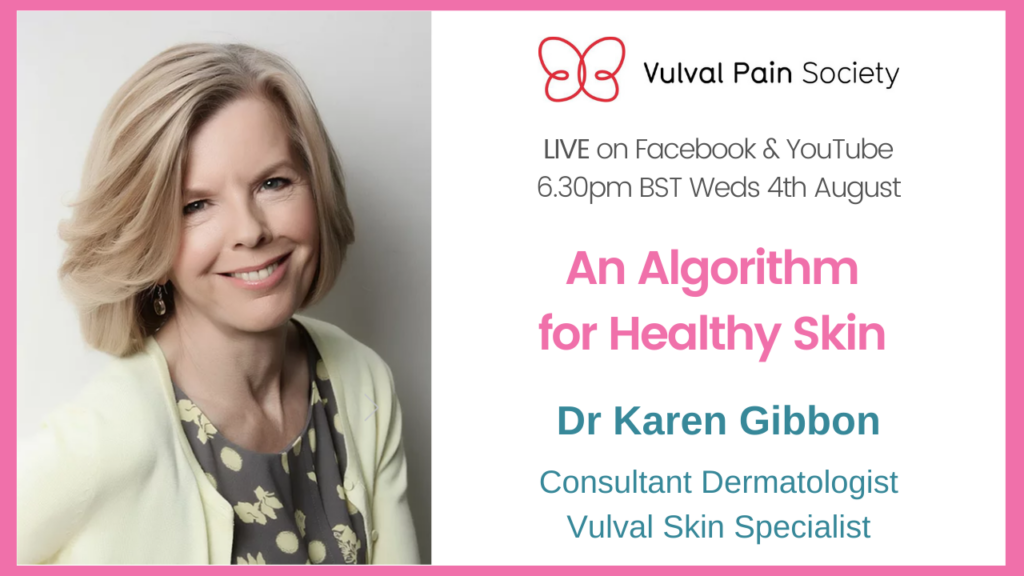 Join us for our next Social Media Live Stream: 'An Algorithm for Healthy Skin'
on Wednesday 4 August 2021 at 6.30pm.
DR KAREN GIBBON Consultant Dermatologist and vulval skin specialist is back!
This time she will introduce people with vulval or genital skin conditions to an algorithm that can help doctors better understand you and your symptoms and get the correct treatment for you.
And if you're a GP, pelvic health clinician, or dermatologist, this is going to be so useful.
LET US KNOW YOUR QUESTIONS:
The last time Dr Karen was on, we ran out of time to answer all your questions!!
This time let us know your questions in advance by commenting here or email us at info@vulvalpainsociety.org.
THIS IS FOR:
Anyone with a genital skin condition or skin discomfort
Partners, family, friends
Healthcare professionals, and researchers with an interest in any aspect of pelvic pain, pelvic health, or dermatology
HOST: Sheren Gaulbert – Vulval Pain Society Trustee, Pain Science Educator, Therapist and Former Patient (vulvodynia and other persisting pain)
WHY THIS IS IMPORTANT:
At least 1 in 7 experiences vulval pain in their life, so the likelihood is that even if you are not aware, someone you know may be going through this pain right now or do so in future. Knowledge is power, it's time for change.
On our Facebook page: https://fb.me/e/2gNJiU1aA
Or on our YouTube channel: https://youtu.be/nF_0_lWJY9g