All our future scheduled webinars and live streams are listed on this page.
You can also find details of future presentations on our Facebook and Twitter pages.
Yoga for Vulvodynia, Wednesday 8 December 2021, 7.00pm GMT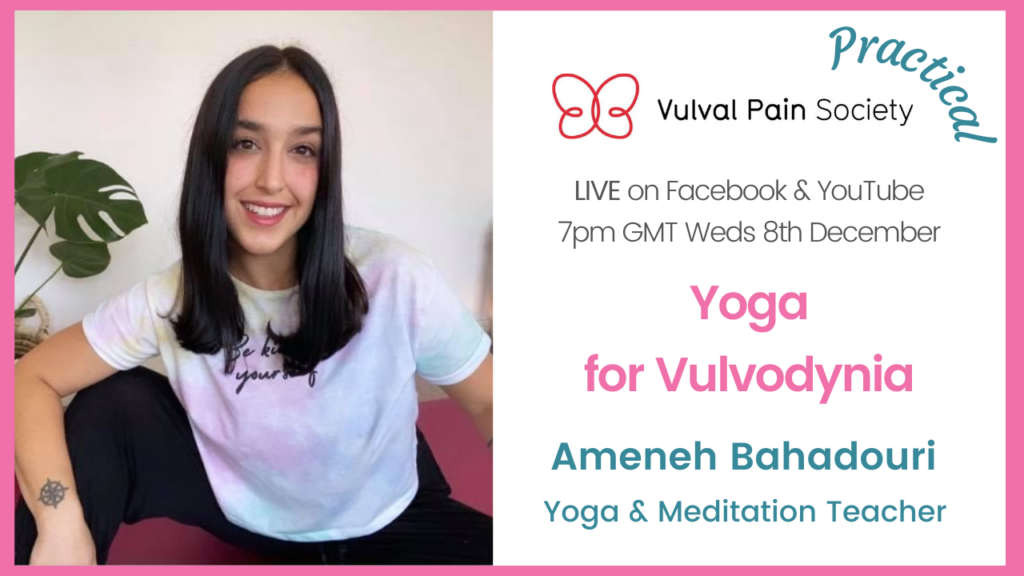 It's time for a practical live stream! And we are excited to welcome back Yoga and Meditation Teacher Ameneh Bahadouri.
Join the Vulval Pain Society live on Facebook and YouTube on Wednesday 8 December 2021, 7.00pm GMT for 'Yoga for Vulvodynia'.
COVERING:
Breathwork to down-regulate the nervous system
Meditative yoga suitable for all levels
Guided meditation
THIS IS FOR:
People living with vulval pain, pelvic pain, and other persistent pain
Partners, family, friends
Healthcare professionals, and researchers with an interest in any aspect of vulval and pelvic pain, and pelvic health
HOST: Sheren Gaulbert – Vulval Pain Society Trustee, Pain Science Educator, Therapist and former patient (vulvodynia and other persisting pain) 
WHY THIS IS IMPORTANT: 
At least 1 in 7 womxn experience vulval pain in their life, so the likelihood is that even if you are not aware, someone you know may be going through this pain right now or do so in future. Knowledge is power, it's time for change.
On our Facebook page at https://fb.me/e/YGX63p2O
and our YouTube channel at https://youtu.be/DL7bmCU62BE