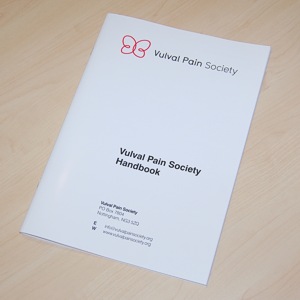 Now in its fourth edition, the Vulval Pain Society Handbook covers most aspects of vulval pain, including chapters on self-examination, terminology of different vulval conditions, sexual dysfunction, coping with pain (including how to take a holistic approach to pain management), complementary treatments, pregnancy and various other issues.
You can read a review of the handbook in the Obstetrician & Gynaecologist, or download the PDF.
How to order the Vulval Pain Society Handbook
The handbook is priced at £10, including postage and packing, or £15 if ordering from outside the UK. The cost of the book is only to cover postage and packing, and the running costs of the Vulval Pain Society, which is staffed entirely by volunteers.
You can order the Vulval Pain Society Handbook either online via this website or by post.
Ordering online
Use the Buy Now button below to purchase the handbook online – just select your location and click on 'Buy Now' to complete your order. PayPal process our sales but you can also pay with a credit or debit card. If you're paying by credit or debit card, click on 'Don't have a PayPal account?' on the PayPal page.
Ordering by post
Using the Buy Now button is the easiest way to purchase the handbook, but you can also post a cheque for £10 (£15 if outside the UK) made payable to the Vulval Pain Society, and including your full postal address on the back, to:
Vulval Pain Society
PO Box 7804
Nottingham NG3 5ZQ
UNITED KINGDOM
Please remember that the VPS is a charity run entirely by part-time volunteers. It may take a few weeks for your handbook to be dispatched. If you have not received the handbook after six weeks, please email us at info@vulvalpainsociety.org.