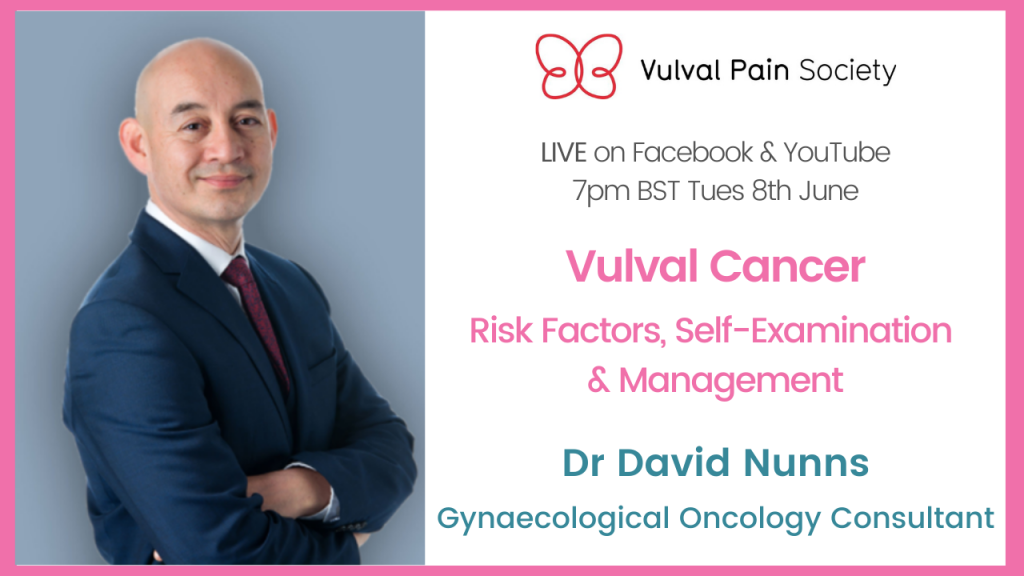 Mr David Nunns MD FRCOG is a Consultant Gynaecological Surgeon, Consultant in Gynaecology, Oncology and vulval disease, Clinical Lead of vulval health multidisciplinary team Nottingham University Hospitals NHS Trust and founder of the VPS and current Trustee
COVERING:
symptoms
people at risk
what to look for and self-examination
investigations
management
Dr Nunns answers patient and clinician questions.
THIS IS FOR:
Anyone with a vulva
Patients with lichen sclerosus or Vulval Intraepithelial Neoplasia (VIN) will find this talk invaluable
Partners, family, friends
Medical and healthcare professionals, and researchers with an interest in women's health and/or pelvic health
HOST: Sheren Gaulbert, Vulval Pain Society Trustee, Pain Science Educator, Therapist
WHY THIS IS IMPORTANT:
Early treatment leads to better outcomes
In the UK alone, more than 3 people a day are diagnosed with vulval cancer
1 in 7 experience vulval pain in their life, so the likelihood is that even if you are not aware, someone you know may be going through this pain right now or do so in future. Knowledge is power, it's time for change.