Please note that some of these videos can be played directly from this page whilst others have to be viewed on YouTube. Where there is no play button visible (the red and white YouTube arrow), clicking on the image for the livestream will take you to YouTube where you can play the video.
Yoga for Vulvodynia, Wednesday 8 December 2021
It's time for a practical live stream! And we are excited to welcome back Yoga and Meditation Teacher Ameneh Bahadouri.
COVERING:
Breathwork to down-regulate the nervous system
Meditative yoga suitable for all levels
Guided meditation
---
Is supported pain self-management your first choice or last resort?, 10 November 2021
OUR GUEST: Pete Moore – Creator of the Pain Toolkit
Pete knows what it is like to live with pain and self-manage.
His creation, the Pain Toolkit, is used extensively in the UK and been adapted for Europe, America, Australia, New Zealand and Canada. In the UK alone, 950,000 copies have been printed and are in circulation. It has been translated into 16 different languages.
---
Patient Voices Special, 27 October 2021
Watch a frank discussion on:
living with vulval pain
experiences of accessing appropriate healthcare and treatment
self-management and recovery
changes patients want to see
support group better practices
---
Bladder Pain Syndrome, 15 September 2021
Dr Winston de Mello Pain Medicine Consultant, and our Trustee, discusses Bladder Pain Syndrome and Interstitial Cystitis.
COVERING:
Definition of Bladder Pain Syndrome
Symptoms
Causes and triggers
Why it's difficult to diagnose
Treatment and management
---
The Sleep and Physical Health Connection, 18 August 2021
Dr Shreena Unadkat – Clinical Psychologist and Senior Lecturer covers:
Basic sleep science
The psychology of broken sleep and the connection to physical health, and pain
What we know about people's perception of sleep
Dr Unadkat answers attendee questions live, for those living with pain, experiencing sleep challenges, and for clinicians and other health professionals.
---
An Algorithm for Healthy Skin, 4 August 2021
DR KAREN GIBBON Consultant Dermatologist and vulval skin specialist is back!
This time she introduces people with vulval or genital skin conditions to an algorithm that can help doctors better understand them and their symptoms so they can get the correct treatment.
If you're a GP, pelvic health clinician, or dermatologist, this is a great flowchart to help you decide on an appropriate care pathway for your patient. And as a patient you can show this to your doctor or healthcare professional so best care route can be determined.
---
Pudendal Neuralgia, 21 July 2021
MARION JONES the Founder of Pudendal Neuralgia Awareness UK chats with Vulval Pain Society Trustee DR WINSTON DE MELLO Pain Medicine Consultant, and former adviser at Pudendal Hope (Health Organisation for Pudendal Education).
---
Consent and Vaginal Examinations in Labour, 6 July 2021
Cath Reeve-Jones is a Senior Midwife at the renowned Midwifery-led Barkantine Birth Centre.
---
Oestrogen, Vestibulodynia and Safety of HRT, 23 June 2021
Mr Peter Greenhouse FRCOG FFSRH is a Consultant in Sexual Health and Menopause Specialist, Vice-President of the International Society for Infectious Diseases in Obstetrics and Gynaecology, and former Sexual Health Head of Service University Hospitals Bristol and Weston NHS Foundation Trust.
---
Vulval Cancer: Risk Factors, Self-Examination and Management, 8 June 2021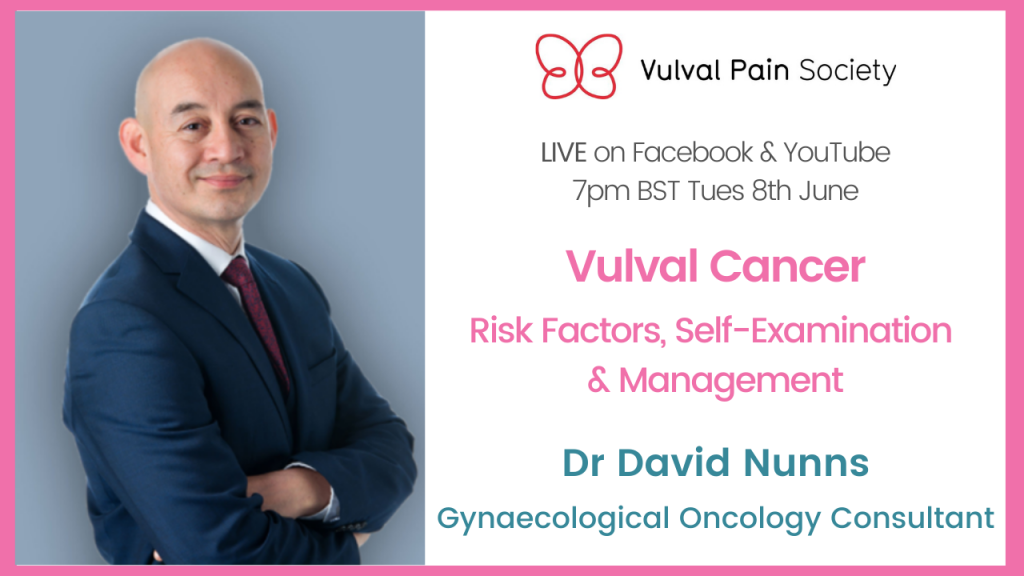 Mr David Nunns MD FRCOG is a Consultant Gynaecological Surgeon, Consultant in Gynaecology, Oncology and vulval disease, Clinical Lead of vulval health multidisciplinary team Nottingham University Hospitals NHS Trust and founder of the VPS and current Trustee.
---
Pain Prevention and Transmission: Does the Gut Microbiome hold the Key?, 26 May 2021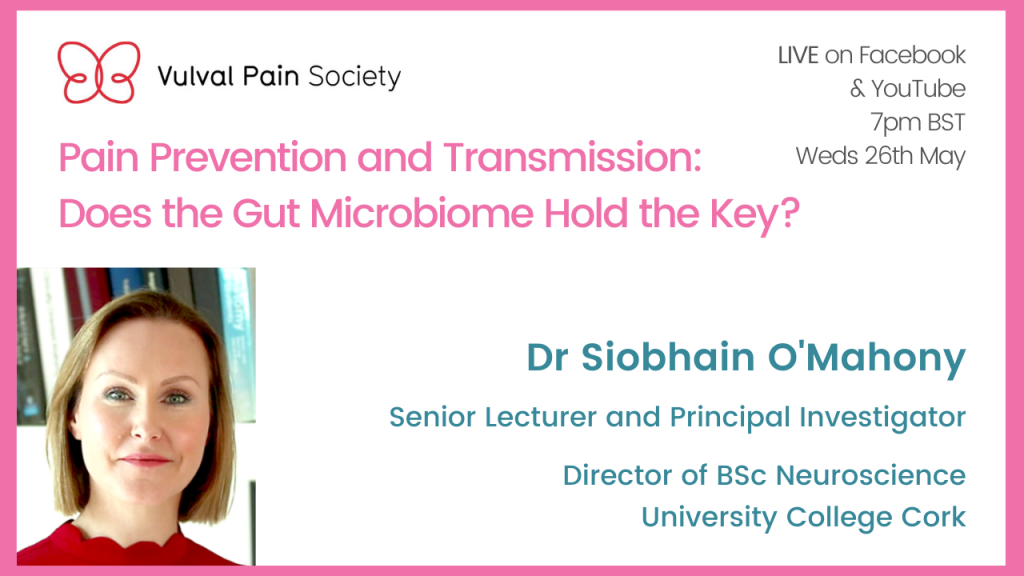 The world-renowned expert Dr Siobhain O' Mahony – Director of BSc Neuroscience, University College Cork, Senior Lecturer and Principal Investigator – shares what her research has uncovered and the role of gut bacteria in preventing chronic or persisting pain.
---
How the Vagina and Vulva are affected by Menopause, 5 May 2021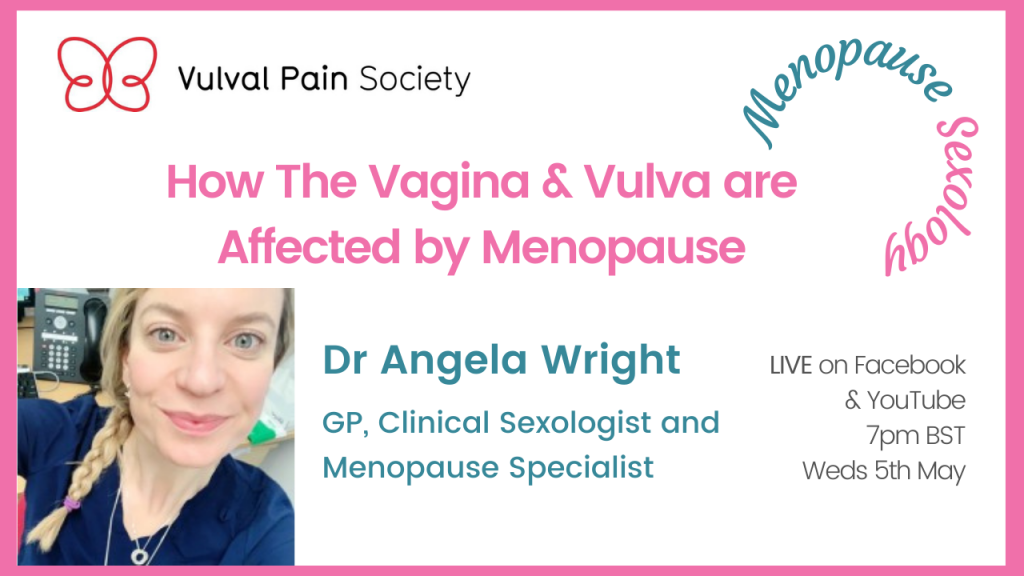 Dr Angela Wright is a Clinical Sexologist, Menopause Specialist, and a GP.
---
The Institute of Psychosexual Medicine Approach to Life, 21 April 2021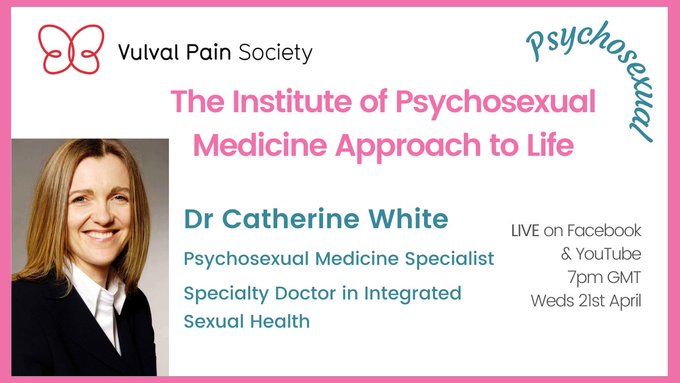 Dr Catherine White is a Specialist in Psychosexual Medicine, Specialty Doctor in Integrated Sexual Health. She is a member of the Institute of Psychosexual Medicine IPM.
---
Vulvodynia Research Special: A Biopsychosocial Model and Treatment Approach, 7 April 2021
Claudia Chisari is a PhD researcher in Vulvodynia at the Institute of Psychiatry, Psychology & Neuroscience, Kings College London.
---
Practical Advice for Vulval Skin Conditions, 24 March 2021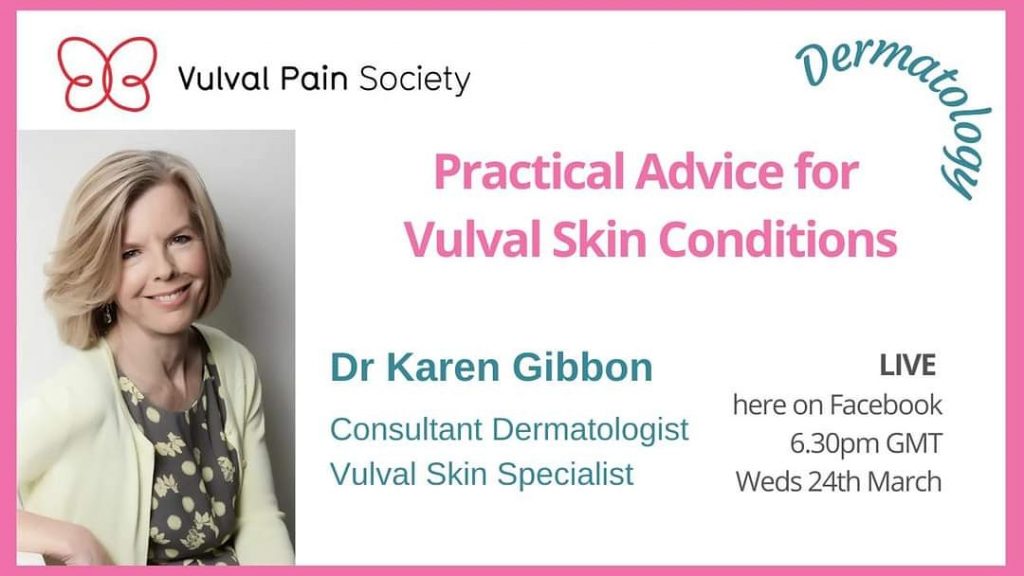 Dr Karen Gibbon is a highly regarded and experienced Consultant Dermatologist with a specialist interest in vulval skin conditions.
---
What Next after Manual Therapy with Pain and the Pelvic Floor?, 10 March 2021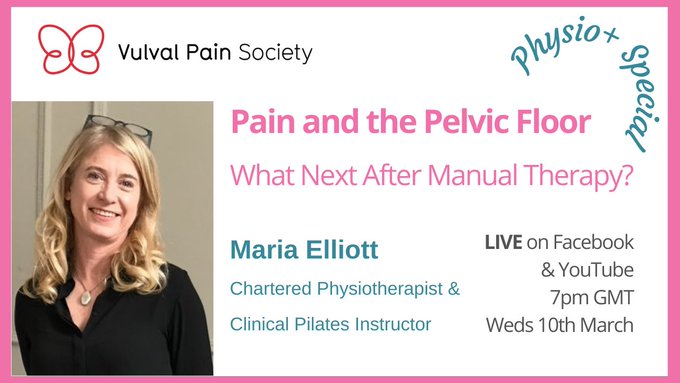 Maria Elliott is a Chartered Physiotherapist and Clinical Pilates Instructor, working with multidisciplinary pelvic health experts to provide integrated recovery programs. In this Vulval Pain Society Livestream Maria moves on from dilators for those with vulval pain such as vulvodynia, vestibulodynia, vaginismus to explore biopsychosocial factors and the whole person. Covering lifestyle, behaviours, sexual health and more.
---
Pain and the Pelvic Floor: How To Treat It – Physio Special 1, 24 February 2021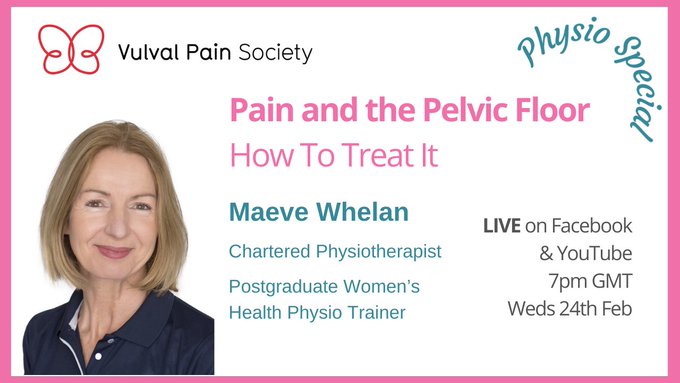 Maeve Whelan is a Chartered Physiotherapist with special interest in manual therapy of the pelvic floor. She presents at conferences, teaches postgraduate Women's Health Physiotherapists, running courses in Ireland and internationally.
---
Gynaecology and Pain Clinic Appointments – How to Prepare and What to Expect, 10 February 2021
David Nunns, Consultant Gynaecological Surgeon and Clinical Lead of Vulval Health Multidisciplinary Team and Winston de Mello, Consultant in Anaesthesia and Pain Medicine for 24 years, advise on how to get the most out of gynaecology and pain clinic appointments, including what to expect and how best to prepare.
---
Meet the Vulval Pain Society Team, 21 January 2021
This is the launch of the Vulval Pain Society (VPS) fortnightly series of Social Media Lives where people experiencing vulval pain and pelvic health professionals can tune in to learn from expert clinicians and have questions answered.
In Meet the VPS Team, discover more about what we do, existing resources, current projects and our upcoming series of livestreams with multidisciplinary clinicians.